Customer? Client? Does It Matter What We Call Them?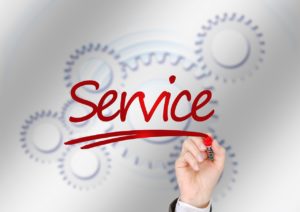 The Difference Between the Client and the Customer
By Annissa Coy
Before we can talk about the difference between the client and the customer I thought we should look up the definition of each.
And this is what I found:
A Customer:A person or organization that buys goods or services from a store or business. A party that receives or consumes products
A Client: One that is under the protection of another :dependant on.
This really fits how I describe the difference between the two. You see a customer is a transaction and a client is a relationship.
Customers are what we get when we take a persons money and do nothing to create a connection with them and not worry about ever getting them to spend their money again with us sometime in the future.
A Client is what we create when we make a connection and build a relationship with a person or business that can benefit from using our products or services. It's what we get when we get to know the person who may someday hand us over their hard earned money knowing that we will be there for them and take good care of them. A Client is what we create when we create an experience around the relationship we build with them.
So ask yourself…Do I have customers or clients in my business?
I hope you answered the latter. If not you need to go back to the drawing board and create a system that enables you to turn those customers into relationships.
To really get the magnitude of this topic you really need to think about the lifetime value of a client vs. just having a customer.
Let's use a pest control business as an example. Say an average client will spend $150 a year on services keeping the bugs away. And let's say your average client is with your for 10 years and refers another 5 clients to use your services. That is a lifetime value of $9000.
Now let's consider that you treat this client like a customer instead and they only have a transaction with you not a relationship and that one transaction goes badly. It is estimated that customers will tell twice as many people about a bad experience than a good one. So that means that by having this person or business as a customer not a client you just lost $16,500! As you can see having customers not clients has an exponential effect on your bottom line.
Not to mention is costs a lot more money to get a client than to keep one. Let's talk about keeping a client.
In order to get a client you need to build a relationship in the first place. To be able to keep a client and have them referring their family and friends you need nurture and care for that relationship on a regular basis. The way we build relationships are thru experiences.
"People may not remember exactly what you said or did but they will always remember how you made them feel" Tony Hsieh
The question then to ask yourself is how are you making your clients feel before, during and after doing business with you?
Do they feel important?
Do they feel that you care about them?
Do they feel like they can trust you?
These are such critical questions that we all as business owners need to explore. Do we have the customer or the client?
A book that I would highly recommend you put on your must read book list is The Starbucks Experience by Joseph A. Michelli. This book has the principles to help you turn the ordinary into the extraordinary for your clients who will love you for years and years to come.
Annissa Coy invites you to participate in the conversations that take place at http://firehouseeducation.com and take advantage of the tons of free training and content on the website that can help you transform your cleaning or restoration buisness. So go ahead and click on the Follow Me button at the top right hand corner of the website and subscribe so you can stay involved in the action.