Customer Service Myths
Why Customer Service Won't Differentiate Brands In The Market Place. And It'll Get Less Important In The USA
Many people, including a good number of business "experts" have suggested that the quality of a company's customer service will make it "stand out" from its competitors.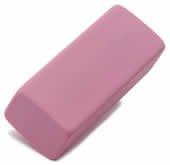 It may be time to "rub out" the notion that companies can differentiate their brands in the market place via customer service improvements.
While a very few companies will succeed at this, consumer psychology and the economy will push CONVENIENCE and PRICE as the major determining factors for buying.
One of the basic assumptions underlying this position is that because so many goods are available in many places and at similar prices, one of the few ways to "stand out" is to beat your competitors at the customer service game.
It makes sense, doesn't it?
Or at least it makes sense if you don't consider all the other factors that affect consumer behavior.
Here's the sound byte:
For MOST companies/brands customer service doesn't currently differentiate them from their competitors, and during the next decade, other forces are at play to reduce further the ability to differentiate this way.
Now, Here's Why, Both Logically and Looking At Data
1) The cost of improving customer service ENOUGH to stand out from competitors is simply too high.
Most businesses (it depends on the sector), work on such thin margins that its not possible to be GOOD ENOUGH to make a difference without pouring a lot of money and people into the customer service process.
There's a business reason why customer service is so bad, and the data suggests that consumer perceptions are that quality service is getting worse. That reason is simple. The cost.
2) Take a look at the companies that perennially get ranked as the worst customer service providers. Year after year the same companies appear on the "worst list", and year after year those companies rake in good profits.
Every once in a while, you'll see data that suggests that poor customer service costs companies money, but by and large, the "average" companies do quite well in SPITE of their terrible service, even in this supposed era of social media empowered customers.
That tells us we (or rather the "experts") are missing something. Customers are simply NOT abandoning companies that provide poor service in the numbers one would expect. They SAY they are but when it comes to consumer behavior, over all, it doesn't happen. Why? Most of the "experts" don't understand customer psychology.
3) It comes down to what customers ACT on.
What causes customers to patronize one place but not another? First is location, location, location. Actually it's not actually location, but CONVENIENCE. Customers will pay more, and accept poor customer service without taking any action, besides complaining, when it is more convenient to deal with that establishment than to drive the ten miles farther to get better service. Convenience often trumps price, and it trumps perceptions of customer service quality, generally. A generalization, indeed, and with ample exceptions, but on average, that's how it works.
4) Let's talk about price.
It's true that lots of goods vary little in price from seller to seller. Sort of. That's a generalization, too. Price is an undervalued aspect of business, but it's going to become even more important in the coming decade. Particularly in the USA.
It's clear at this point that the American Economy is not going to rebound, and that the USA's economic power is coming to a rather rapid end. Over-reliance on foreign energy sources, a badly mismanaged economy, a lack of understanding of the failures of the supposed free market system, educational systems that are quickly being overtaken by those in other countries, and on and on, are too fundamental to get around with "Old American Know How".
Consider this. The American dollar is being supplanted as the key world currency, in part because the dollar has collapsed, but also because the US economy can no longer sustain the stability that created its dominance. This further drives down the dollar's value. Current predictions are that the US dollar will lose another 15% of its value relative to even weak currencies like the Euro, within the NEXT YEAR.
If you look at the US dollar's value with respect to the Canadian dollar, and look at the highs and lows over, let's say the last 10-15 years, the results are astonishing. At its highest point a US dollar would buy you $1.52 worth of the Canadian currency. Several weeks ago, the US dollar wouldn't even buy a full Canuck buck, yielding only ninety cents.
So, what's the point regarding customer service? Everything imported from other countries will cost more, in fact DOES cost more. Not a little bit more, but a lot more. Add in the cost of oil/gas plus the diminished dollar, and what Americans will experience, ARE experiencing, is higher prices — higher prices many can no longer afford.
As prices rise, the middle class (most of the country) loses purchasing power at such a rate that PRICE will become THE determining factor in consumer choice. At least for those not falling into the top income brackets. Not only will there be a shift psychologically as a result of "the crunch", but people will not be able to AFFORD the luxury of not buying at the cheapest prices.
6) What About Companies That HAVE Differentiated Themselves Via Customer Service
There simply aren't that many, even now. Zappos, the "shoe" seller" is the one most mentioned, but its process is not reproducible elsewhere. Other companies haven't succeeded in copying, because they simply can't. It's interesting to note that while Zappos "sort of" sells shoes and a few other lines, it's no longer in the business of selling goods, per se. Did you know they run 2 day seminars so others can learn their "new age" management techniques (their words, not mine)? At over $3,000 a pop? Or that they offer tours of their business for just about $49? It's Disney World but in leather pumps!
Give them huge credit for packaging up customer service and actually selling it, rather than shoes, but other companies simply can't do this. Zappos is a singularity, uncopyable.
What about Apple? Here's a company highly touted for its customer service, yet Apple's long term history has been fraught with poor business decisions, bad management, and yes, really bad service and products that drive some people nuts. Kudos for offering decent customer service BUT customer service didn't differentiate them.
Their skills — the strengths that allowed Apple to "come back" from oblivion have little to do with service, and everything to do with innovation, marketing and "cool" branding. Apple could employ a cadre of baboons in their customer service departments, and the Ipods and Iphones would still have taken the world by storm.
If you cast the net wider and look at hundreds of major companies, you'll find very few that have succeeded in this differentiation. Most companies garner praise, and they garner brickbats, and the end result is a wash. Some like, some do not. Life's like that, because no company can provide consistent service to hundreds of thousands/millions of customers. Not without huge investment. Many not even then.
They know that. They know they only have to be "good enough" so that their competitors don't outshine them so effectively as to steal market share. Even then, marketing and spin usually covers that off.
They know they don't have to pour resources into the customer service function, because they know customers will come back to them if they provide convenience and price, particularly in sectors where there are few players.
Conclusion
As is the case with most people, I want better customer service. I think it is important. As a business person, however, looking at the overall picture rather than focusing on Zappos or Apple, the average companies which comprise most of the world's businesses, simply cannot make customer service differentiate their brands in the market place. At least not sustainably.
I don't see the point in pretending otherwise or being sucked in to the notion that customer service is the lever with which you can move the market. It hasn't happened yet in the wider world, and it isn't going to happen. Customer psychology and basic economics will ensure it doesn't.
Should companies try anyway? I'm not sure. I suspect there will be no more than one in a thousand companies that will succeed at this kind of differentiation, if that.
What should companies do? I maintain that the winners of the business races will ultimately succeed by providing really good customer service at the basic level. No frills. No WOW. No LOVE, but just plain old down-home meeting the reasonable, basic needs of customers in convenient and price efficient ways. I suspect these companies won't "stand out" all that much because doing the basics well seems not to impress "experts" much. That said, the payoff will be in money, not Disney type publicity.
Get basic. Don't expand customer service to complex media without first fixing what you've got. Will there be a company that wins the race by eliminating wait time on the phone? Even if it doesn't respond to tweets, updates on Facebook, and so on. Even if it doesn't astonish its customers. I'd bet that's the way to go. Keep prices down, be convenient as you can, and provide basic customer service.